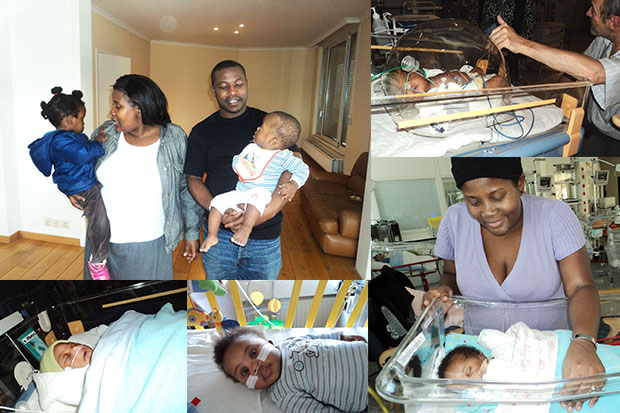 Inspiration and Motivation to setting up Angel's Center for Children with Special Needs.
In the academic year 2010-2011 Rosemary Nambooze from Uganda followed a one year Master's program at the University of Antwerp. When she was studying in Antwerp she was also expecting and in December 2010 she gave birth to her son Abryl.
Unfortunately there seemed to be many complications, and Abryl appeared to have Down Syndrome and a serious heart dysfunction. A very difficult period started. Rosemary was obliged to stay in Antwerp even after completing her Master program, in order to give her son the medical care he needed. Yet, her dream was always to return one day to Uganda to her home, family and friends.
As she was growing in her acceptance of her son's handicap and experiencing high quality and close guidance in the University hospital of Antwerp, from specialised homecare services etc., she realized how difficult it would be for parents with disabled children in her home country Uganda. In Uganda no such facilities exist and children or people with disabilities are mainly excluded from all regular social and economic activities, including basic social interactions, support in their development and education.
Children with disabilities are mainly kept at home, due to a lack of opportunities to go elsewhere, a lack of means to give them proper support, and basically also a lack of acceptance. In Uganda there is still stigma about having a child with a handicap. The more Rosemary was experiencing the contrast between the care for her child in Antwerp and the harsh reality for disabled children in Uganda, the more she became convinced that the future work she wanted to do was to strengthen the rights and capacities of parents of disabled children, and the disabled children themselves, in Uganda.
As soon as her son Abryl had had a successful heart operation in the university hospital in Ghent and he recovered well, plans to return to Uganda became more concrete.
In August 2012 Rosemary returned to Uganda and now she is living with her family in Kampala. During the months before her departure Rosemary, in collaboration with the people of her supporting network both in Belgium and Uganda, set up a plan for the creation of a centre for disabled children and their parents in Uganda.
In this centre, named 'Angel's center for children with special needs', it is the purpose to bring together parents of children with special needs, raise awareness in society about children with special needs, help parents with access to medical advise and services, give access to information, assist parents (on the practical, emotional and pedagogical level) in raising their children, support the children in their mental, social and physical development, go against discriminatory practices and work on integration of disabled children in society.
Ongoing activities: Since the arrival of Rosemary Nambooze and her family in Kampala, ACCSN has been working on a situation analysis on children with disability in Uganda, Kampala: the of presence of disabled children, services for them, local actors and policy in Uganda-Kampala. Throughout this analysis several families with disabled children were already identified. Now the center is working with ten families with ten disabled children, all living in the near neighborhood of the center.
It was a conscious decision to start with families from the immediate neighboorhood and to limit them to ten. These ten families, or parents, form the parent group and the basis for the setting up of Angel's center now. At the moment they are mainly functioning as a support group in which they discuss common problems, let their children meet, and think of problems and how to tackle them. A first concrete action they did was something very practical, namely to contribute to buy an aerosol machine together for common use by their children (as many disabled children also have respiratory problems).
In the short term: In the short term ACCSN as set up an 'early learning center for children with special needs'. This is also the part where the Antwerp subsidy would be used for. For disabled children it is very important to be stimulated and supported in their development at a very early age, as it is at an early age that children are still strongly developing and have the capacity to learn many new things (both mentally and physically). Yet, in Uganda stimulation of disabled children's development is now almost absent as parents and children don't get any support, there is no follow up on the child's development (if parents even know what the child has exactly), and participation in social life (including going to school) is very hard.
Therefore it is the purpose in the early learning center to bring children together, make them play and interact together, follow-up on their development, stimulate them with toys/interactions/games/exercises on their level, give them professional guidance by therapost according to the needs (logo, ergo, kine).
Within the early learning center parents of the children will be strongly involved;​
Firstly, through their children's and their own's participation in the early learning center awareness will be created about the importance and potential success of stimulating disabled children in their development.
Secondly, both in through the early learning center and the parent support group they will get counseling and guidance on how to help their children in daily care and their development.
Thirdly, parents will be very much involved in training and capacity building as it is the purpose they will be trained by the professional therapists in order to be able themselves to consciously assist their children and other parents in stimulating mental and physical development.